travel
January 13, 2023
Puerto Vallarta Mexico
Having been in numerous cities in Mexico over the last 35 years, I never made it to Puerto Vallarta until this year. I can't believe it took me so long to find what could be one of my favorite spots in Mexico. There are many direct flights to the area. We flew Sun Country, and the airport is large by Mexican standards, with many gates, restaurants, and tons of shopping. My only complaint was leaving the airport was a cluster of getting a cab. They funnel you through various windows to buy a ticket, and then you are escorted to a cab from the company that sold you your ticket. I could not figure out a way around this and did notice that there were folks that had prearranged rides which might be the way to go. Upon arrival, the airport was a mad house but leaving for home, it was smooth sailing, with a two-hour window being plenty of time to get through security and immigration.
Downtown: This is the best area to stay on a budget as it's not right on the beach
Zona Romantica (Romantic Zone/Old Town): The best area to stay for first-time visitors as the cobblestone streets and close proximity to the beach, culture, museums, and art make it very attractive. Here you will find the Main parish church, which is an icon in the city called Our Lady of Guadalupe.
Zona Hotelera: The best area to stay for all-inclusive vacations and large hotels
Conchas Chinas: The best area to stay for groups of friends as there are large homes, gated communities, and large VRBOs for rent.
I will share some of the places we stayed, and where we ate in Old Town during the four days we were there, but I was also told if you have a week that, the Vallarta Botanical Gardens are not to be missed. The gardens are located 14 mi South of Puerto Vallarta and showcase orchids, agaves, cacti, palms, and other native plants, with a restaurant and river swimming available to visitors.
Where we stayed:
We stayed at the glamorous and gorgeous boutique hotel called Hacienda San Angel. We were there for 4 nights for a special birthday, so we splurged, and I am so glad we did. We stayed in the San Gabriel suite, and the hotel was perfectly situated to everything in Old Town. The hotel has a restaurant with Mariachi, and the signature hotel margarita was delicious. Casa Kimberly is also close to our hotel and was beautiful as well. There are also lots of VRBOs that are available in the area that seem nice. We met many folks that spent 4-8 weeks in the area in VRBO's.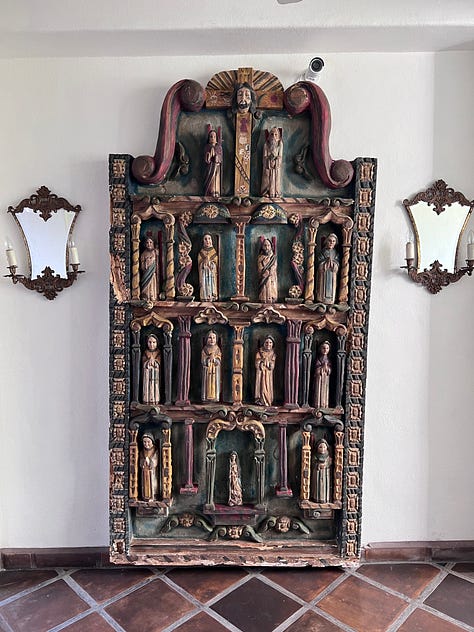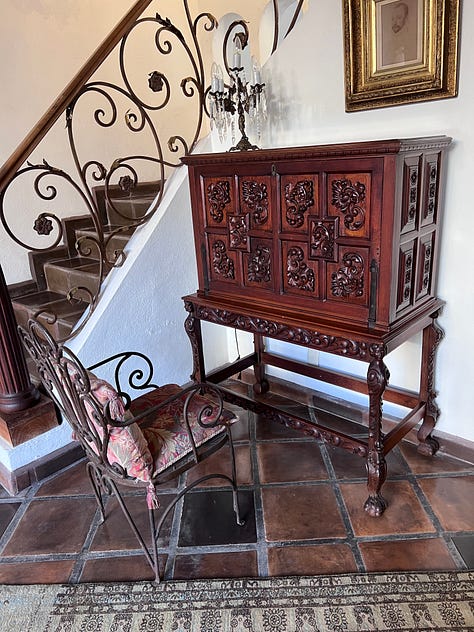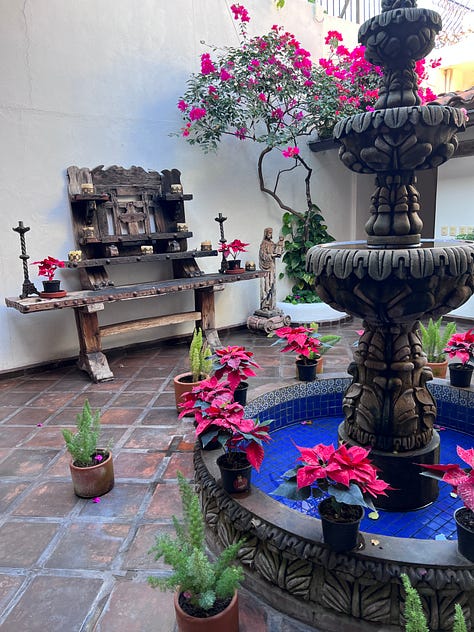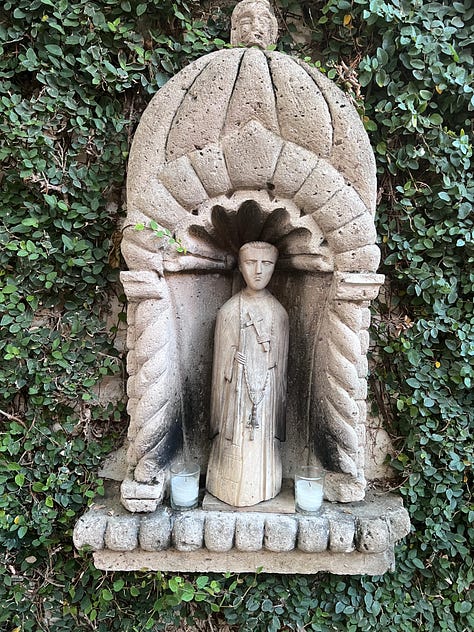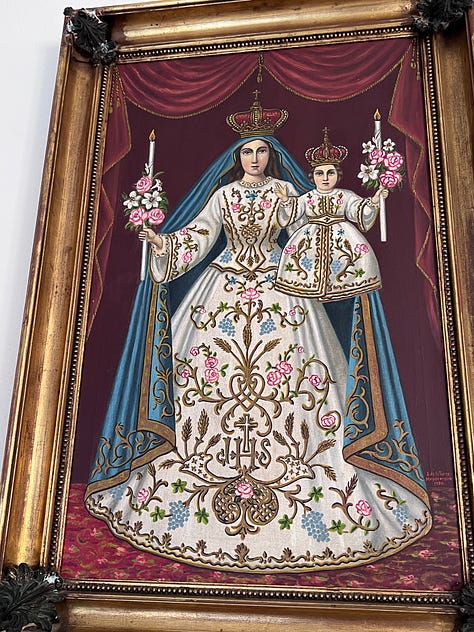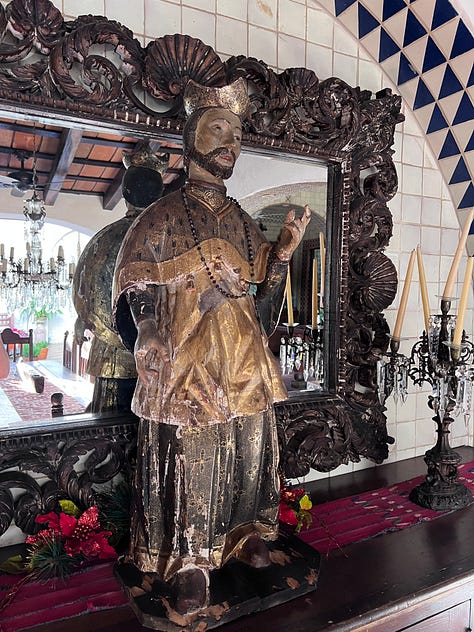 Where we ate – I had 4 reservations and we had lunch at a few good spots
Night One – El Panorama. This was a local spot within walking distance of our hotel. We had their signature shrimp dish, which was prepared tableside along with our Ceasar Salad, and it was delicious. Here is the view from our table
Night Two:
We ate at the Iguana Restaurant and Tequila Bar. This was also within walking distance of our hotel, and we loved it. This is a spot that Elizabeth Taylor loved.
Night Three:
Daquiri Dicks, which was on the beach in Old Town. I am sorry for this restaurant's unfortunate name because it did not fit our delicious dining experience. These pictures aren't great because it was dark but the Onion Ring coated in Captain Crunch was great.
Our neighbor Picasso was not allowed to eat at the table.
Guisado on Risotto-Fantastic.
On Night Four we went to La Capella Italian Restaurant, which is gorgeous with spectacular food, and they have live violin music on site, which was excellent. This night was spectacular with the drinks, food, service, and entertainment. Five stars for sure.
What we did for fun. I would encourage you to walk the Malecón, a 12-block, mile-long esplanade in Puerto Vallarta's Centro and Zona Romántica in the Mexican state of Jalisco. The waterfront crosses the Cuale River via Puente Río Cuale. and is littered with sculptures, art and restaurants, and vendors. You can get a fantastic array of Street Food here and see live music.
On our last day at the Malecón pier, we met a vendor who rented boats, and we negotiated a Private boat for 4 hours (expect to pay $40-$50 USD per hour) to go whale watching and eat lunch at Las Animas a beach about 30 minutes away by boat. We also visited the cove and beach at Colomitos. The whale watching did not disappoint as we saw 2 large whales that came along upside the boat.