podcast
June 17, 2022
Episode 38: Beth Dooley Prolific cookbook author, Beth Dooley champions eating well and eating local
Beth Dooley is a James Beard Award-winning food writer who has authored and co-authored over a dozen books celebrating the bounty of America's Northern Heartland. Her first cookbook, written with Lucia Watson called "Savoring the Seasons of the Heartland," is one of my favorite regional cookbooks. Her latest cookbook is "The Perrenial Kitchen," and she co-wrote Will Steiger and Rita Mae Steiger's recipe and a story collection called "The Steger Homestead Kitchen, Simple Recipes for an Abundant Life."
Listen to the episode here:
https://listen.stitcher.com/yvap/?af_dp=stitcher://episode/204156479&af_web_dp=https://www.stitcher.com/episode/204156479
Her column appears monthly in the Star Tribune, and she helps people connect with food through the "Bare Bones Cooking Classes" she hosts with her son Kip.Try Beth's Curry potato salad below and find other recipes from Beth Dooley's kitchen on her website featuring local ingredients here:
CURRY POTATO SALAD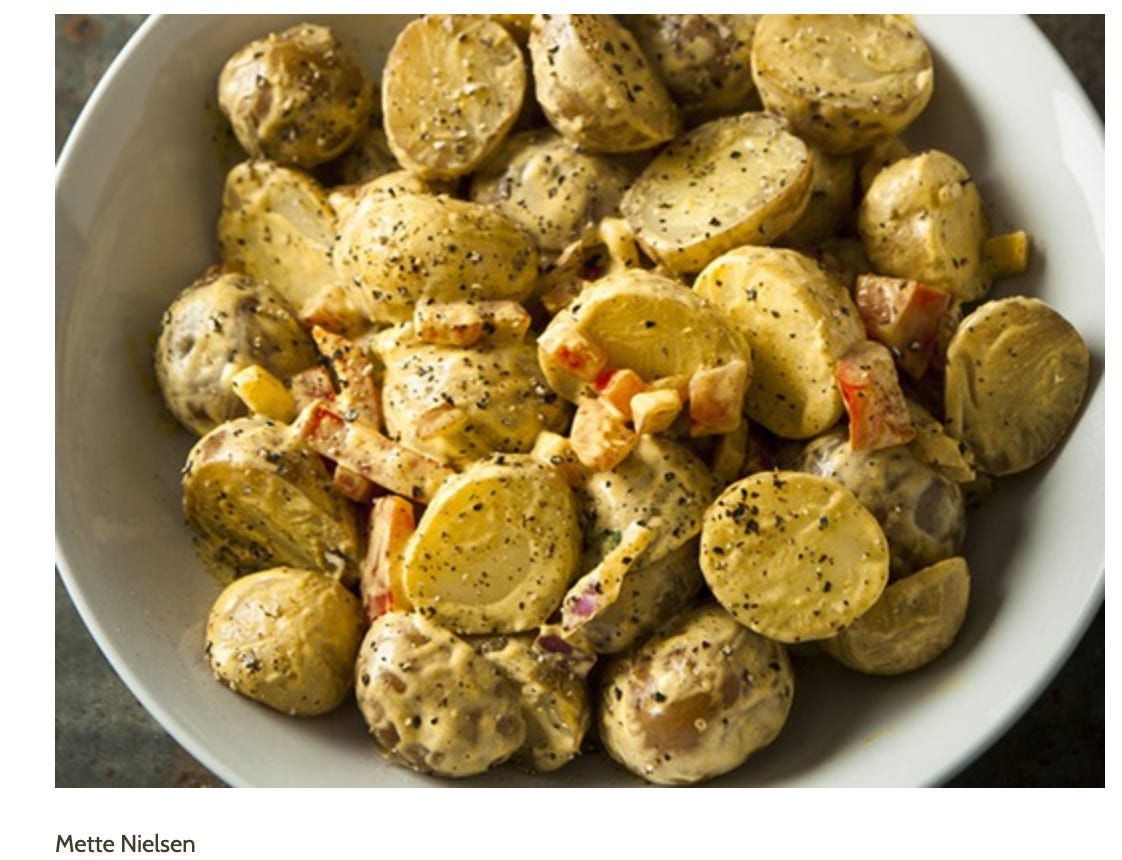 Serves 6.
• 1 1/2 lb. red, fingerling or new potatoes, scrubbed
• 2 tsp. salt
• 1/4 c. mayonnaise
• 3 tbsp. whole milk yogurt
• 2 tbsp. curry powder, or more to taste
• 1 tbsp. fresh lime juice, to taste
• 1 small red bell pepper, seeded and diced
• Salt and freshly ground black pepper, to taste
DIRECTIONS
Place the potatoes in a large pot with enough water to cover by several inches. Bring to a boil over high heat, add the salt, and reduce to a gentle boil. Cook until the potatoes are tender when pierced with a knife, about 15 to 20 minutes. Drain into a colander. Allow to cool enough to handle, then cut into 2-inch chunks.
In a small bowl, whisk together the mayonnaise, yogurt, curry powder and lime juice. Place the potatoes into a large bowl along with the bell pepper, add the dressing and toss to thoroughly coat. Season to taste with salt and pepper. Serve warm, at room temperature or cold.